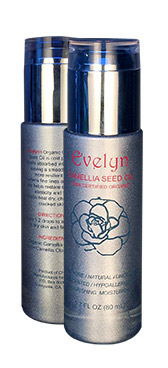 $12.95
2.7 FL. OZ (80 ml)
Evelyn

Camellia Seed Oil

Camellia Oil USDA Certified Organic. It is crystal clear and odorless. It has been used in products for face, lips, hair and body.


A HEALTHY OIL FOR SKIN AND HAIR
IT IS LIGHT, ODORLESS AND COLORLESS
EASY ABSORTION / GREAT MOISTERIZER
HYPOALLERGENIC & CAFFEINE FREE


Evelyn Camellia seed oil has remarkable moisturizing and anti-aging properties. It's proven to be very effective in reducing fine lines, post-acne red marks and pitted acne scars, and reducing the appearance of enlarged pores. It dramatically revives skin resilience, giving your skin a supple and radiant glow.

Gentle and non-irritating, it's suitable for all skin types, especially dry/sensitive skin.

It penetrates quickly and deeply, giving your skin optimum hydration without a greasy feel. Your skin will feel remarkably refreshed, smooth and firm.