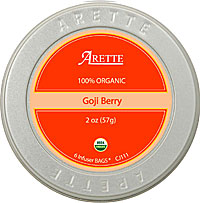 Arette Organic GoJi  Berry (  Gj 111)
Certified Organic by IMO
Net Wt.: 57g (2 oz)   Packaged in Travel Tin
GoJi Berry has been used in Chinese medicine for
thousands of years. *Today, many use  Goji Berry to
enhance immune system functioning, improve eyesight,
protect the liver and improve circulation. Goji Berry
contain 18 types of amino acids and 21 trace
minerals as well as various vitamins.
*These statements have not been evaluated by the Food and Drug Administration. This product is not intended to diagnose, treat, cure or prevent any disease.